EC Pops is refreshingly whimsical take on a gourmet popcorn store located in the heart of Ellicott City.
Our Locations
We opened our first store on Main Street in Historic Ellicott City in the Spring of 2017.  After the devastating flood of Ellicott City in 2018, we reopened our gift store on Main Street the fall of the same year.  Additionally in July of 2018 we opened our second location in Fell's Point, Baltimore.  We have quickly integrated ourselves into the exciting culture of the city and have become an iconic treasure of Baltimore that more and more people discover every day.  Our Baltimore store has been voted a local favorite for 2019 and 2020.
Besides our Baltimore and Ellicott City stores, we also have an outlet store located at the PA Dutch Market in Cockeysville.
In October of 2019 we grand opened our new flagship store in Old Ellicott City.  Located just up the street from our old location, our new store is over six thousand square feet combining our award winning popcorn and all the Maryland and quirky gifts you've come to expect from us.
We always choose locations that have a lot of character, and we bring that quirky, whimsical atmosphere right into our stores. We have emerged as an all-welcoming attraction with a wow factor that calls people to our doors.
In 2019 EC Pops was recognized by the State of Maryland for our continued commitment and being a consumer destination for Main Street communites.
The best way to experience all that we have to offer is by planning a visit today!
In Our Store
EC Pops has quickly become an award winning iconic Maryland treasure that locals love to discover and come back with family and friends in tow. In 2020 we were honored to be awarded the Baltimore Sun's "Best of" for Maryland themed gift store.  We pride ourselves on creating a crazy, all-inclusive, fun atmosphere in all of our store locations. People come for our products, but stay and return to experience the high energy, party spirit of EC Pops. Our store is bright and welcoming, with shelves full of quirky designs and colorful murals painted by a local artist.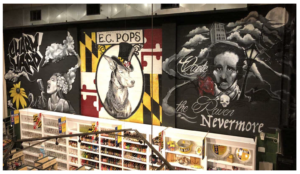 Our Famous Popcorn is Back!
EC Pops ships our gourmet popcorn throughout the United States so that you can enjoy a pop of joy wherever you are. Bagged popcorn is the perfect gift for your partner, your children, your hairdresser, your friends, and everyone else in your life that could use a little extra flavor. We stock 50+ flavors of the best gourmet popcorn online and make all of our flavors fresh immediately before shipping to ensure that they taste just as good in California as they do in Ellicott City.
We Look Forward To Seeing You Soon! Check out our store information to learn more about our exclusive apparel and store hours.